Dragon Burn Artist Collective 2
21st March 2019
@
7:30 pm
–
9:30 pm
CST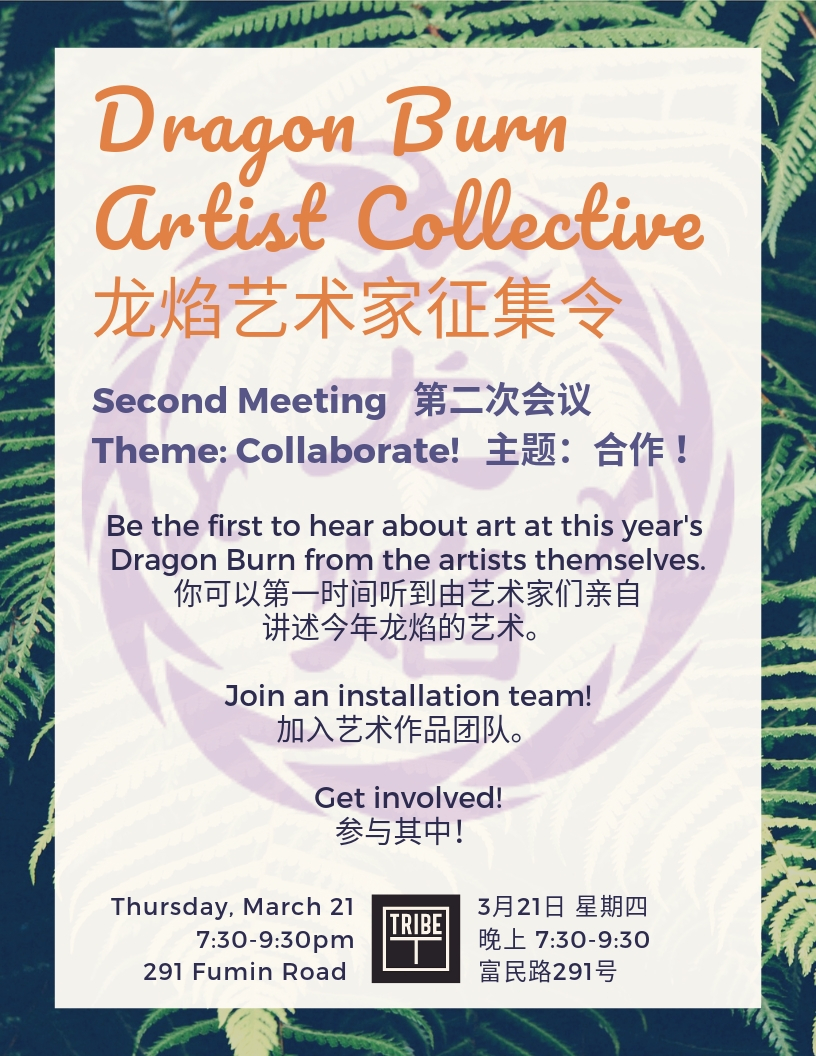 Hey you, yeah YOU! Remember that awesome night we had at Daliah (RIP) before CNY with over 100 creative souls showing up? Well, we're back for the second artist collective meeting and the roles are reversed! Last time, it was all about Dragon Burn's Ministry of Art telling you everything you needed to know to create an installation. Since then, we've had over 30 incredible installations and projects apply to be part of this year's Burn! In this next phase of the art collective, the approved artists will show their project to the collective.
嗨,叫你呢,就是你!还记得那个超棒的夜晚么,春节前在Daliah维也纳餐厅(已经关闭了,缅怀一下),和100多个充满创意的灵魂在一起的时光?对的,我们回来了,第二次的艺术家征集令会议来了,不过这次角色互换!上一次是龙焰艺术部门告诉你关于艺术装置创作的所有事项,在那之后我们收到了超过30个今年龙焰艺术装置和方案的申请!所以下一步要做的是,通过审核的艺术家们将向群体展示他们的方案。
At our Second Artist Collective, come get a sneak peek at all the installations and projects that will be at this year's Dragon Burn, straight from the artists themselves. You can also talk to the artists directly, sign up to COLLABORATE, and join a team. Help make our artists' lives easier and our artwork even more amazing at the Burn. If you see some artwork you feel passionate about, join the team! Have ideas on how to improve an installation? Know where to find some of the materials needed for a project? Want to help fundraise a project? We look forward to seeing you there!
在第二次艺术家征集令会议上,你可以抢先领略到今年龙焰所有艺术装置与方案的风采,这会由提出它们的艺术家们来亲自介绍。同时你也可以直接与这些艺术家们交流,商讨合作,加入制作团队,帮助我们的艺术家更好的完成创作,并让这些艺术作品在今年龙焰上更加闪耀。如果你对一些艺术装置充满激情,加入它们的制作团队!有让艺术装置更加完美的主意?知道哪里可以找到适合的材料?希望帮助某个方案募款?我们十分期待在会议上看到你!