Read this, or suffer the humiliation of Burn failure.
Introduction
Dragon Burn is a regional event based on the ethos and principles of Burning Man. Some things may not be clear to you now, but after the event, we believe that you will understand the experience and ethos more. Dragon Burn is a weekend event celebrating art, community, music, fire, imagination, interaction and participation. Our event is 100% not for profit. All of our organizers, artists and volunteers have purchased tickets. There are no sponsors or vendors. Dragon burn is part of a global community of like-minded, open, and loving people coming together in hundreds of events each year.
For many, Dragon Burn is a container for growth and new experiences, so check out a workshop, installation or a panel discussion. Set an intention and use your time here as an opportunity to learn about others, the world and yourself.
Be Prepared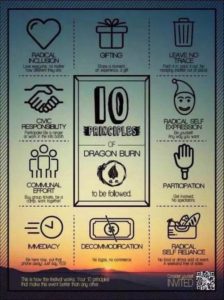 The most important thing is your frame of mind. This event celebrates community, you, art, fire, performance, and most of all: community. This event is made up of what participants bring to it, no more, no less. Arriving with a good mindset is as important as arriving with food, water, and shelter. Make sure you know what to bring before you board the bus. The volunteers and organizers are great people- please be kind and loving to them.
Decommodification
Decommodification is the name of the game. Your brands may be mocked mercilessly. Vendors will be fed to the dragons. Don't sell anything, and we will make sure that you're not overwhelmed with any marketing.
Radical Self-Reliance
You are responsible for organizing your food, drinks, and shelter (YOU MUST BRING A TENT- TENTS ARE NOT PROVIDED OR RENTED ON SITE). And sharing is caring.
Permission
You have permission to express yourself. Others have permission to express themselves. However, only yes means yes! Intimacy is more fun when everybody involved is in control of their own boundaries. Consent to participate in any personal interaction, especially physical, must be agreed upon by all Burners involved. Please ask for consent when taking pictures during the event.
Please take the time to read more about consent.
Show Your Plumage!
The warmer days and cooler nights give you the opportunity to wear awesome costumes and outfits. Let your creative genius take over, from decking out your camp with lights and tapestries to costumes and fur coats, bring creativity to your experience and it will add a new dimension to the adventure.
Gifting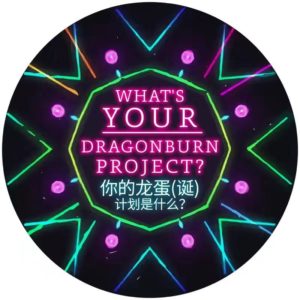 Some of the best experiences will be between you and others at unexpected times. Whether its a heartfelt conversation about life, someone giving you a hug, or sharing food- gifting is everywhere at Dragon Burn. You can prepare a small trinket of your appreciation ahead of the event and keep them on you for when you have shared a moment with others. Great gifts are not MOOP generating- jewelry, gum, cigarettes, polaroid photos, handmade items, food, drink, DIY items, soap, etc. Gifting is an exercise in generosity- sharing for the sake of sharing and expecting nothing in return.
Kermit the Frog
It isn't easy being green. We encourage everyone to have a sustainable eco-friendly burn. Reusable products are a Burner's friend. Please, no glowsticks, styrofoam, glass, or single-use plastic packaged products. Pack your food conscientiously to reduce the amount of trash you will create. Suggested foods: Cereal, mac n cheese, cold cuts, rice, fruit, salads, nuts, pizza, sandwiches, peeled boiled eggs, pickles. Bea a good neighbor and bring some to share!
Leave No Trace!
Trashbags are a burner's best gift- bring bags for you, friends, and neighbors. Clean your camp area and keep your trash sorted. Work with your neighbors to create a community recycling strategy. Lead by example- it may not be your trash, but that's okay. Love thy neighbor and clean up after them, and they will do the same for you. SMOKERS- we love you, please have a metal tin on you at all times to collect your cigarette butts. The only butts on the floor should be your cushy butt sitting and relaxing in the grass all weekend (hahaha see what I did there).
DON'T USE THE LAND AS A TOILET. Your poop and pee is M.O.O.P. The event site is small and we intend to avoid pests, bad smells, and possible illness. Out of respect for the environment, your fellow Burners, please find a toilet. We are serious! DO NOT DO IT!
Things You Should Know
There are NO showers. Tent space will be very cosy- we know you love it. A lovely volunteer will be helping you to put your tent in a location that will allow for many people to use the space as well. If you want to camp with friends arriving at another time, were sorry- you may want to move your tent after they arrive. We can't allow people to save tent space. We just have too many awesome burners.
Fire and Related Things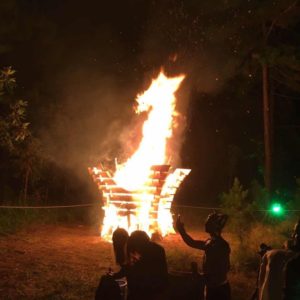 Forest fires are real!
This year's site is a pine forest. The ground is covered in many dry pines and leaves that are susceptible to fire propagation. So to protect the forest there is a complete ban on all open fires in the area, which means you are not allowed to have any sort of burn barrel or fireplace.
Tent fires are also very real! Set up equipment to heat, boil, or anything to do with high heat in safe way, protected from wind or in as open area as possible. Cooking equipment is allowed, but be self-reliant and look after them. Never leave gas stove unattended, and think of safety when you install them. Use protected solid sturdy surfaces which are not in direct contact with the ground. don't use tables with three legs to place your cooking burner, make sure it is stable and safe!
Please smoke safely. Use an ashtray to dispose of your used cigarettes. Throwing them on ground is another safety hazard that can cause fires.
There will be fire extinguishers near the major structures/camps. Don't spray people with fire extinguishers.
There are a few designated areas for fire-related shows.
The Fire Conclave will have a dedicated area for fire spinning. You can find details at Center Camp. Fire spinners will perform during the event and organized show schedule will be published at Center Camp as well.
We welcome fire spinning so get in touch to find out where you can use your props safely. Do not spin fire in any other area regardless your level – the open fire ban includes fire props. Whatever you do with your fire props, please only light your props if you already have experience spinning fire.
Near Center Camp there will be a communal fire barrel. We welcome donations of wood and cardboard to keep the barrel alive.
The effigy will be Burned on Monday evening so be prepared!
On-Site Help
We will have an on-site medical team on-call 24 hours a day. Medic services are for true emergencies. The medic area will be pointed out on the map. Booboos, cuts, bug bites and non- serious emergencies should not be reported to the medics. Ambulance services are 25 minutes away from the site. SAFETY 3rd, but safety home.
How to Assemble Your Crew
Communal effort can mean many things- building art, LNT, or even just sharing resources. We sold the tickets in groups so that you would all work together! It's best to share the responsibilities of camping with others. I.e sharing water, sharing cooler space, sharing food/beverages. We'd love to hear from you if you have a big group that have a "themed camp" with cohesion in decoration and/or offering to share on mass scale. Here's a blueprint of a good camp dynamic:
The Nurturer– someone that is caring and nurturing. Has great costumes, and will make sure you drink enough water.
The Architect– this person understands camping, cooking, and spacial relations. Will know what to do when something goes wrong.
The Tank– this person can help carry water, or a 5- person tent. Athletic, funny, always down for a good time.
The Spiritual Guide– feeling the vibe? always relaxed and can see the good in people? You have the power to bring people together and to fill their heads with happy thoughts. Knows where all the cool art is before the event.
The most important of all is to clearly set out all roles and responsibilities before the event. Organize your life- buy a label maker.
Volunteering
By now you should know that Dragon Burn is a non-profit, volunteer run effort. It takes a lot of work from a lot of amazing people to make this event work. We always appreciate any help we get, even if it's a small thing like showing up. If you enjoy Dragon Burn and want to make it even greater then we encourage you to participate through volunteering!