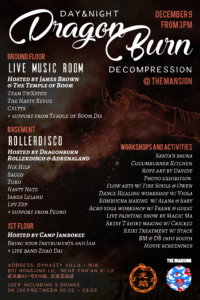 It's Decompression: a special daytime to nighttime annual event that brings all the elements you would expect at a Burn to a fabulous venue. We're glad to be hosting it this year at the newly spruced up Mansion. We have a full roster of workshops, installations and activities. Here's the rundown of what you can expect during the daytime.
Adrenaland Skate Ride to Mansion!
Wanna warm up before getting your Burn on? Some of the Adrenaland folks will be doing a skate route from downtown to Mansion.
Meeting Time: 2pm / About 2h cool ride through the city
Location: From Downtown
If you're interested pls contact (Wechat ID): yarma22 OR gavrocheenchine.
Acro Yoga Workshop
Gabriel and Frank will teach some easy acro yoga moves like bird and throne. The workshop is suitable for beginners. Please come and make the first flying experience.
Reiki Treatment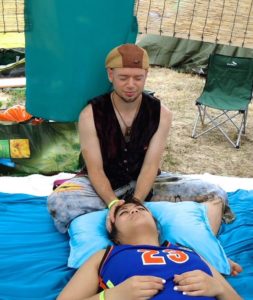 Reiki is a simple and natural energy that aids relaxation, healing, and self-improvement. Stack has been spreading good Reiki vibes for 15 years. Come by for a brief treatment at Decompression.
BM/DB Education
Join us at Burning Man Playa School as we discuss Burning Man's history and dive deeper into a few of the ten core principles which define this event's identity. We will take a look at the Burning Man philosophy and how it unites all regional burn events worldwide. This talk will address the interpretation of Burning Man not as a festival, but as a way of life and we will discuss ways to incorporate its core principles into your daily mindset.
Healing Dance Workshop
In this workshop we will go through different movement flows, to build connections with breathing, with body, with space, and with each other. We will guide you to experience and focus on yourself, only yourself, humble and immersive, and improvise your own natural flow.
All ages, all background are welcomed. Outfit suggested: as comfortable as possible
Live Painting
I will dress in armor, painting using water guns and air blower on rice paper. I may use bamboo brush, but not too much. The subject will be improved and it will be unpredictable and stimulating. 我将身穿盔甲,用水枪和吹风机在宣纸上作画,有可能用到毛笔,但不会太多,能画出什么不确定,一切都是那么随机并充满乐趣。
BM Info booth
"Journey back in time with elder burner SvenAarne to the early days when pranksters ran wild in the streets of San Francisco, then jumped in jeeps and drove a wooden man to the desert. See actual relics and watch his selection of new and classic burner films dusted off from the vault!"
Town Hall is chatting about Dragon Burn in more general terms brainstorming about future, open sharing on whiteboard. Let's talk about the community from in front you stage and backstage perspectives. Lots of tears, sweat, and blood goes into making it happy go lucky. This is about making your burn!
Theme Camp Conference
A roundtable of not only the theme camp leaders but everyone to discuss anything about organizing a theme camp. Topics are open and not limited to: Camp Leave No Trace report at DB 2017, Camp Finance management and fundraisers, Camp gift and plans for DB 2018, Knowledge sharing from BMORG and between camps, and Camp member recruitment.
Kombucha Workshop
Kombucha (红茶菌), or "mushroom tea," is a type of bubbly, fermented tea which has been made since ancient times and has many numerous health benefits, such as detoxification, digestion and gut health, boosting immunity, and some claim that the tea prevents and even treats cancer and diabetes.
Despite the name "mushroom tea," there is actually no mushroom involved. What is used to ferment the kombucha tea is a bacterial culture similar to fungus called a SCOBY (also known as a "mother"). Kombucha has a history of sharing, because the best way to get your own SCOBY is to take a piece from a friend who has one to grow your own culture.
At the Cucumburner Kombucha workshop, we will give you a small SCOBY and a jar to get started, show you the process to begin brewing your own kombucha at home, and, of course, send you home with a set of directions so you won't forget how. The workshop is free, and your new pet SCOBY is donation-based (suggested donation: 20元). We hope to see you there!
Cucumburner Kitchen
The Cucumburners are a plant-based, home-cooked, food-loving theme camp making their debut this year at Dragon Burn! We will be cooking up a storm on December 9 for our first PRE-compression event. Come during the day to check out what delicious & healthy foods we will have available for sale and have a bite to eat. All food and drinks are donation-based and home-cooked with love.
On the menu:
• Xu Ye's homemade sourdough bread
• Avocado-hummus-kale toasties with sundried tomatoes
• Vegan BLT toasties with homemade garlic Meiyou-naise aioli
• Sweet potato fries with Meiyou-naise
• Smoothies
• Homemade Kombucha
• Cookies, treats, and so much more!
We look forward to seeing you in our kitchen!
If you want to camp with us this year, cook, bake, or help out in any way, you are radically welcomed! Contact us on Wechat: Sary (SaryBK2) or Alana (Alana-tee). *
The Details
Location
The Mansion, Dynasty Villa, – B18, 851 Hongjing Lu, Near Yan'an Xi Lu
Entry
From 3pm- 12am: Mansion style 100RMB with 5 drinks included.
From 1am-3am costs 150rmb with 5 drinks included.
Dust off your Burner gear and get ready for the big decomp rendezvous!