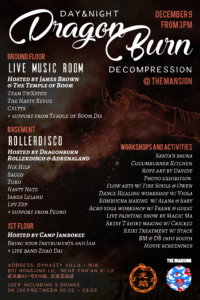 It's Decompression: a special daytime to nighttime annual event that brings all the elements you would expect at a Burn to a fabulous venue. We're glad to be hosting it this year at the newly spruced up Mansion. We have a full roster of workshops, installations and activities. Full details further down, ladies and gents.
All of the theme camps will be representin'…
Dragon Burn Rollerdisco and Adrenaland will be joining forces and taking over the basement roller disco madness with late night DJs, hustling and bumping. James Brown & The Temple of Boom hosts the ground floor room with their own special take on live music and DJs. Camp Jamboree will host the upstairs room, transforming it into an intimate Jam-space.
What is Decompression?
A decompression is a local reunion for Burning Man participants to help ease themselves back into everyday society after the "big event". It is not uncommon for Burning Man participants to experience "post-Burn blues", and decompression events can help alleviate the feelings of loneliness and separation that can occur. The events provide an opportunity to participants to share feelings, art, performances and memories. As awareness of Burning Man has spread around the world, decompression events have evolved to welcome newcomers to Burner culture.
We've got rope art from Davide, and a flow art workshop from the luscious Fire Souls, accompanied by Owen. Frank and a special guest are pairing up to deliver a Acroyoga workshop. Get down to the musical stylings of Zhao Dai, or maybe you'll want to take it down a notch with the Dance Healing Workshop, led by Viola. There's a live painting show held by Magic Ma, a slew of photo exhibitions, and a artful attire installation from Cricket.
Join the saucy ladies for their Cucumburner Kitchen, and maybe nip over to the kombucha making workshop to learn a new skill. Grandmaster Stack will be doling out reiki treatments, and there's always the opportunity to get schooled by Sven at the Burning Man and Dragon Burn information booth & movie screening. If you're overcome by our lineup relax in Santa's Sauna, and -for the brave- maybe take a dip in the ice cold pool.
Entry
From 3pm- 12am: Mansion style 100RMB with 5 drinks included.
From 1am-3am costs 150rmb with 5 drinks included.
Dust off your Burner gear and get ready for the big decomp rendezvous!
PS: Wanna warm up before getting your Burn on? Some of the Adrenaland folks will be doing a skate route from downtown to Mansion.
Adrenaland Skate Ride to Mansion!
Meeting Time: 2pm / About 2h cool ride through the city
Location: From Downtown
If you're interested pls contact (Wechat ID): yarma22 OR gavrocheenchine.