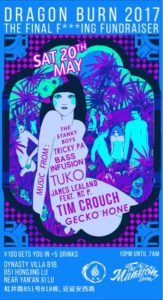 Dragon Burn returns to the Mansion for their annual pre-Burn event.
This time fundraising for 3 different theme camps that you will find at the Burn this year; Dragon Burn Roller Disco, James Brown & The Temple of Boom, and Adrenaland.
It starts early – the Mansion Family will be hosting participants at their infamous pool from 3pm. There will be a group Skate organised by Atomic Crew from downtown – departure 8pm Location TBC. Arriving at the Mansion at 10pm.
When: Saturday 20th May, 3 PM to 7 AM
Where: The Mansion
Dynasty Villa – B18, 851 Hongjing Lu, near Yan'an Xi Lu
Shanghai,China
Entry: 100 RMB including 5 drink tokens
Please Bring: Your best Burner outfit