Dragon Burn's gates open tomorrow. Are you ready? Good job we have this handy checklist to help you check you have everything you need to enjoy the Burn!
What to Bring
Your ticket
Your bus ticket (if it was bought separately)
IMPORTANT: Any form of government ID (either a passport or Chinese ID, photocopies are fine)
All your camping gear (tent, sleeping bag)
Your food and water
You can see a longer list here, which includes several other things you might want to bring.
Getting There
If you haven't already, make sure you know where to go.
The event location is private land located about 25 minutes west from Anji City. The site is called TianJenWenYuan in the town of HangGaizhen in Anji county or translated 浙江省湖州市安吉县杭垓镇天泇 山文创园 (you can put this in your GPS). This private land is a small peninsula along the Fushi Reservoir.
If you are travelling from Shanghai using the buses we provide you will need either a bus ticket or a combined ticket on the date and time you intend to travel to the Burn. The buses will pick up in front of the Shanghai Museum, near People's Square (on Yan'an East Road, in-between Huangpi North Road and Xizang Middle Road).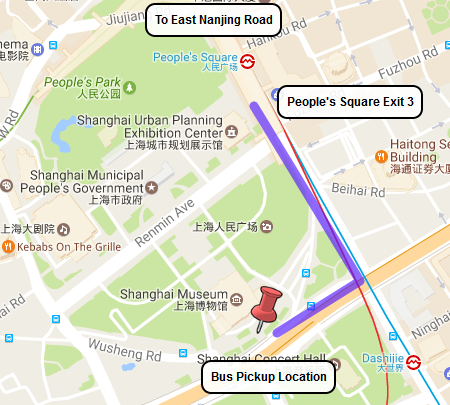 Get there by Subway
Go to People's Square Station on Line 1, Line 2 or Line 8. Leave by exit 3 and walk south down Xizang Middle road. Turn right when you get to Yan'an East Road and you will see Shanghai Museum on your right.
Get there by Taxi
Ask for Shanghai Museum on Yan'an East Road (say Shanghai Bo-wu-gwan, Yen-an-dong Lu). Or show them this address:
上海博物馆
延安东路
If you are getting a taxi from the airport do not book a taxi inside the airport. They will rip you off. Go to the official taxi line. There will be a large queue but it moves a lot quicker than you would expect (Shanghai is really good for this).
Get there from A Shanghai Train Station
You can take the Subway, either Line 2 from Hongqiao Train Station (takes around 30 minutes), Line 1 from Shanghai Railway Station (takes around 5 minutes) or from Shanghai South Railway Station (takes around 20 minutes) to People's Square and follow the directions above.
Get there from Pudong Airport
From Pudong Airport you can take the Maglev train to Longyang Road and change to Line 2. From there head to People's Square and follow the directions above. This should take around 40 minutes, but may take up to an hour.
If you want to save money you can just take Line 2 from the airport, but it will take longer and be very crowded. Make sure you have at least an hour and a half to make it to People's Square.
Get there from Hongqiao Airport
Take Line 2 to People's Square. It will take you around 30 minutes.\
We look forward to seeing you at the Burn!