One question we are always asked is 'where does the money go?'. Ironically, even though Dragon Burn (and Burning Man) is an experiment in non-commercialism, getting the thing set up takes quite a lot of time and money. This article is an attempt to explain the way we handle money at Dragon Burn.
Transparency
As a non-profit and an official Regional Burn we are required to be completely transparent about our finances. We work hard to keep track of where the money is spent and our Financial Reports are publicly available on this site. The financial reports for 2014 and 2015 can be found in their respective Afterburn reports, but as of 2016 we will also be publishing yearly financial reports.
When you run your own fundraisers for art at Dragon Burn we ask that you are equally as transparent about what the money is going towards.
Where Does the Money Come From?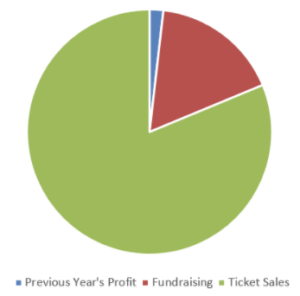 Most of the money last year came from ticket sales. Dragon Burn's fundraisers accounted for less than 17% of its income. Very little profit was made the year before, but every little bit helps!
As you can see, despite running several fundraisers we were still relying heavily on ticket sales to cover our costs. This is a trend we expect to see continue this year.
Where Does the Money Go?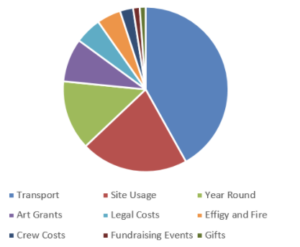 So far our largest expense has been transport, followed by the site and year-round costs.
Year-round costs include the cost of storing Dragon-Burn owned equipment (site infrastructure, abandoned art projects, safety supplies), site visits and website maintenance.
Site usage includes the site rental, insurance, police permit, security and a medical team (which we will have this year). Most of these major costs are covered by the tickets.
Fundraising money generally goes towards art grants and the effigy. Gifts here are things like pendants, flyers, wristbands – things we like to gift to participants at events and the Burn to make things more memorable.
Non-profit is not Zero-profit
If you actually looked at our financial report you will see that Dragon Burn actually made a profit last year. This may surprise a lot of you, but it's important to remember a few things:
First, no one makes any personal money from Dragon Burn. Many non-profits (including Burning Man) do end up paying people salaries out of necessity, but Dragon Burn is still completely volunteer-run to date.
Second, this report only counts up to December 2016 so does not include any costs from the beginning of this year. This year Dragon Burn has had to renew its storage, pay for site visits, and create more gifts to give away. So far our fundraising hasn't raised enough to cover those costs.
Finally, it gives the organisation more freedom. This year's Burn will be 4 days and will happen over a bank holiday. We are confident we can do this because we can pay a lot of our costs up-front. This means a much smoother experience for the volunteer organisers and a better Burn for all participants.
When we consider the cost of a ticket we take this into account. We don't want to break even (i.e. make zero-profit). We need to make enough money that will also cover Dragon Burn's costs over the next year and allow the Dragon to continue Burning.
The Cost of a Ticket
We plan to release tickets soon and we have set a price that we believe is reasonable and will not only be cheap, but also cover our costs. But coming up with a ticket price is a lot more involved than you might think. It's not quite as simple as just setting a price and selling tickets. It's important to pick a price that will allow us to cover our costs, but at the same won't make us too much money.
If we make too little we run at a loss and someone will have to pay out of their own pocket. This actually happened in 2014, and the volunteer organisers had to cover the loss themselves.
If we make too much money then that money goes to waste. It is unfair on the community as a whole, and is especially unfair on those only planning on coming to the Burn for one year.
So to come up with a ticket price we have to look at our income and expenditure so far, and predict what it will be in the future. There are a lot of unknowns when it comes to events like this – how many people will actually come? How much will it cost for transport? For insurance? Are there any potential costs we don't know about?
We will never know everything in time, but it gets to a point where we need to start selling tickets. So we have to come up with a price that ensures we can cover our costs and anything that might come up last minute. We also want to make it as cheap as possible so that participants can afford to make it.
This year we've worked out the best price to be at 300RMB for entry, plus 150RMB for the bus. Not a bad price for a 4-day event over a bank holiday! :p