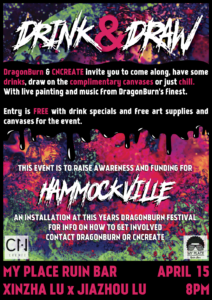 Dragon Burn and CNCREATE invite you to come along, have some drinks, draw on the complimentary canvases or just chill. With live painting and music from Dragon Burn's finest.
Entry is FREE with drink specials and free art supplies and canvases for the event.
This event is to raise awareness and funding for Hammockville, and installation at this year's Dragon Burn. For information on how to get involved contact us.
Location:
Xinzha Lu, near Jiaozhou Lu
April 15th, 8PM