A Weekend to Give Back
Who? Anyone with 2 hands!
When? July 1st-2nd.
Where? Dianshan Lake, about 1.5 hrs from SH.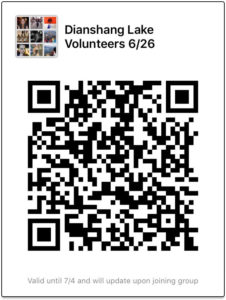 The Dianshan Lake has 2 ancient houses currently in the process of restoration in hopes of becoming a hub of education and preservation of the culture and artistic heritage of the nearby Dragon village, a community with over 1000 years of history. The team in charge of this restoration project has dreams of this project becoming a hub of various educational and artistic events in the future as well as helping create a bridge between the domestic and foreign cultures that are so abundant in Shanghai.
Join the group for more info!
What Will We Be Doing?
Saturday is our WORK day. We hope to provide a solid 6 hrs or so of help providing hands-on labor for the various projects that need completed at the site. Everything from building a wall, to planting more garden-space, to setting up some of the places for visitors to be able to come stay. Any expertise in architecture, permaculture, horticulture, or art could be useful especially to help lead and advise on some of the current projects and possible future projects.
Sunday will be our CULTURAL EXCHANGE day. We will spend part of the day sharing our culture with the local villagers through activities. These activities are still being thought out, but likely the villagers will do a guided taichi activity, and we were talking about cooking and preparing some food and drinks for them! The thought of the villagers tasting a mojito or trying some authentic hummus was a fun idea. We may also try to play some music for them and do any other performances we can manage with who ends up joining us.
Why Are We Doing This?
Because we want to help others, it's as simple as that. This is a way to do some serious GOOD for others in the world. This is a chance to do something good without promise of reward or trade or receiving anything else in return. We do this because we want to show our own gratitude for all the things we have that others don't. We want to show our appreciation for life, for our own good fortune, and for those that have less than we do. We want to acknowledge the beauty of life and all of us beings that live in it by helping each other and the environment in which we live. The more hands we have, the more good we can do.
Will I Need to Pay?
We ask that all volunteers split the cost of transportation to and from the site. We will organize the bus and costs will go down the more people that join. Estimated costs will be about 80 to 100rmb/person. Food/drink will be provided on site.
Join the fun! Hope to see you there, and feel free to contact me personally if you have any questions.
<3 Zach
WeChat: zphillips
Correction: The location is called Dianshan Lake, not Dianshang Lake