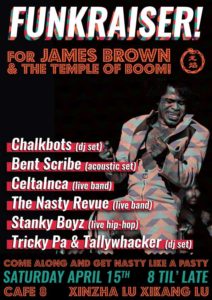 Uhhh Ohhhhhh! Did someone say they wanted to get NASTY like a PASTY next weekend?? (For the record, please don't put it past me).
Fantastic news for you then – the James Brown and the Temple of Boom camp are throwing a fundraiser this coming Saturday with aload of live acts and DJs. Come along to see the first lady of funk Anita slay some filthy tunes, and See Khan's favourite band The Stinker Boys performing some fresh new hits.
Cafe 8 Saturday 15th April, c'mon guys!