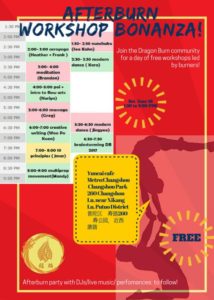 Have we all recovered from Dragon burn yet? Or are you still craving for more?
It's been more than a couple of weeks since we endured the elements which means it's time to start preparing for next year's Burn. This Saturday join us at Yuncai Café for the Afterburn where we will not only be gathering feedback but also providing a day filled with fun activities and a night of live music and performances.
Many of Dragon Burn's workshops will be returning so if you want to revisit something or you missed out on a workshop you may find it here. After dark your favourite musicians, DJs and fire performers will entertain us and we will even be having an outdoor jam session and a Stanky Dance battle!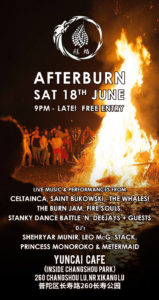 Whether you attended Dragon Burn already or want to join us next year (or just want to have an awesome Saturday) all are welcome to join!
The Afterburn workshops start at 1:30 pm and the music starts at 9pm. Entry is free so there is no excuse for you to not come and reconnect with your fellow Burners!