This year's Dragon Burn will be the first time we have THEME CAMPS! Yes, just like Burning Man various camps will be bringing their own individual themes. There are already more than 5 confirmed camps for the Burn, and if you want to start your own there could be even more!
If you want to participate in any of our theme camps then email our Theme Camp Coordinators!
active theme camps: rollerdisco | camp jamboree | adrena land | flying baozi | james brown and the temple of boom | healing spirits | open kitchen
Roller Disco Theme Camp
"Think neon lights, glam-station, disco balls and dance music all night long and you don't have to skate to camp with us! Our theme camp is a roller disco with sound stage and 60 pairs of skates!
Join us on a magical journey…"
Camp Jamboree
Camp Jamboree, the original theme camp! You may have seen us at last years E-Midi Festival or seen the camp collapse at Shalanaya! Camp Jamboree will be bringing the vibes of free expression and community to the Burn!
Join us and jam!
Adrena Land
Adrena Land will be bringing extreme sports to Dragon Burn for the first time!
"Far from the Urban Jungle a tribe of extreme sport (wo)men will create a digit-natur-al experience. Join your creativity and energy to make it even greater!!"
Flying Baozi Dome Project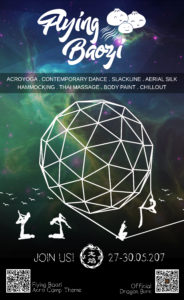 The sky is our play area and safety is the key to get crazy and explore as many things as our minds can imagine!
Flying Baozi Dome creates an environment where you can learn, practice, and play! From hammocking and aerial silks, to yoga, acro yoga, thai massage, slackline and body paint. You can play the entire day away with us!
In the morning, relax with breakfast and flow with contemporary dance; chill and daze in the hammocks; get creative with body paint to express your mood using your body as your canvas.
After lunch, we'll all be full of energy and ready to PLAY! Discover all the possibilities of strength, balance and silliness practicing slackline and monkey around with the smiles and trust of Acroyoga.
James Brown and the Temple of Boom
Welcome James Brown enthusiasts to James Brown and the Temple of Boom: The hottest, funkiest, nastiest theme camp at Dragon Burn 2017!
We are a techNO! and bongo-free haven for all lovers of Funk, Soul, Jazz, Hip-hop, Blues, etc. who don't take themselves too seriously.
Feel free to invite friends who like having a laugh and are up for making this camp super bad!
Healing Spirits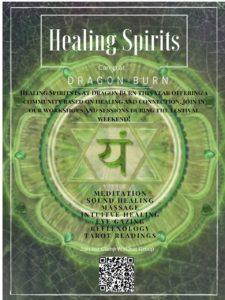 Healing Spirits is a camp based on healing and connection. The camp space will offer reiki, massage, and sound healing services, meditation, tarot readings and more over the Dragon Burn weekend!
Check out their workshop schedule for some spiritual healing over the weekend:
SATURDAY
12-1 PM: Meditation (Lorna)
1-2 PM: Reiki Share (All practitioners)
3-3.30 PM: Muscle Testing Workshop (Micheal)
4-4.30 PM: Yoga Philosophy (Cricket)
5.30-6.15 PM: Sound Meditation (Jules, Ricardo)
7-8 PM: Deep Tissue Massage (Lacey)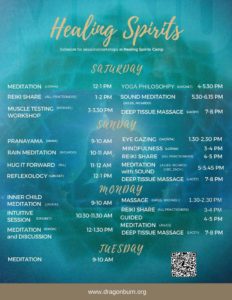 SUNDAY
9-10 AM: Pranayama (Anna)
10-11 AM: Rain Meditation (Ricardo)
11-12 AM: Hug It Forward (All)
12-1 PM: Reflexology (Cricket)
1.30-2.30 PM: Eye Gazing (Jacinta)
3-4 PM: Mindfulness (Lorna)
4-5 PM: Reiki Share (All practitioners)
5-5.45 PM: Meditation with Sound (Jules, Richard, Loic, Zach)
7-8 PM: Deep Tissue Massage (Lacey)
MONDAY
9-10 AM: Inner Child Meditation (Jackie)
10-11.30 AM: Intuitive Session (Cricket)
12-1.30 AM: Meditation and Discussion (Simon)
1.30-2.30 PM: Massage (Greg, Micheal)
3-4 PM: Reiki Share (All practitioners)
4-5 PM: Guided Meditation (Jules)
7-8 PM: Deep Tissue Massage (Lacey)
TUESDAY
Open Kitchen

The Open Kitchen is a collective art installation. It is an experiment in gifting in its most traditional form—food. Here more details and we chat group to participate (donating cooking time and skills, supplies, equipment).
That's Not All Folks!
If you want to get involved with any of the theme camps, then email us or even apply to start your own!