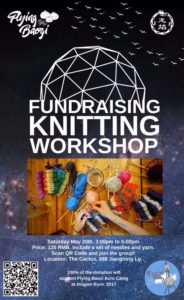 Learn how to knit and get a new set of needles and yarn with the Flying Baozi fundraiser this Saturday!100% of the donations will go to support the Flying Baozi Acro Camp in Dragon Burn 2017.
When:
Saturday 20th May, 3 PM to 5 PM.
Where:
The Cactus
888 Changping Lu, near Jiaozhou Lu Shanghai,China
Entry:
125RMB including a set of needles and yarn.
Please Bring:
A big smile and good vibes